Vegan

Whole Food

Zero Added Sugar

Non-GMO
Regular price
Sale price
$29.99 USD
Unit price
per
Sale
Sold out
It's Cyber Monday Week! Use Code THANKS40 for an additional 40% Off Your Order! (While supplies last)
Meet Super Cocoa, a delicious and nutritious twist on your favorite chocolate indulgence. Get the sweet, rich flavor you love in hot chocolate, but without the nasty ingredients that usually come with it. You can even make it cold by shaking it in a bottle with unsweetened plant-based milk (or water) and a bit of ice for a refreshing superfood chocolate drink!
12 individual servings per box


Buy the Two Pack and save even more

Made with a rich blend of 2 types of real cacao

Loaded with organic veggies, fruits, and ancient grains & seeds (shhh, don't tell the kids)

Contains 6 grams of organic pea protein per serving

Enjoy it hot or cold

Works great in smoothies

100% plant-based & cruelty free

Zero 

added sugar, zero junk, and gluten free

Rich and creamy (even when mixed with water)
Share
View full details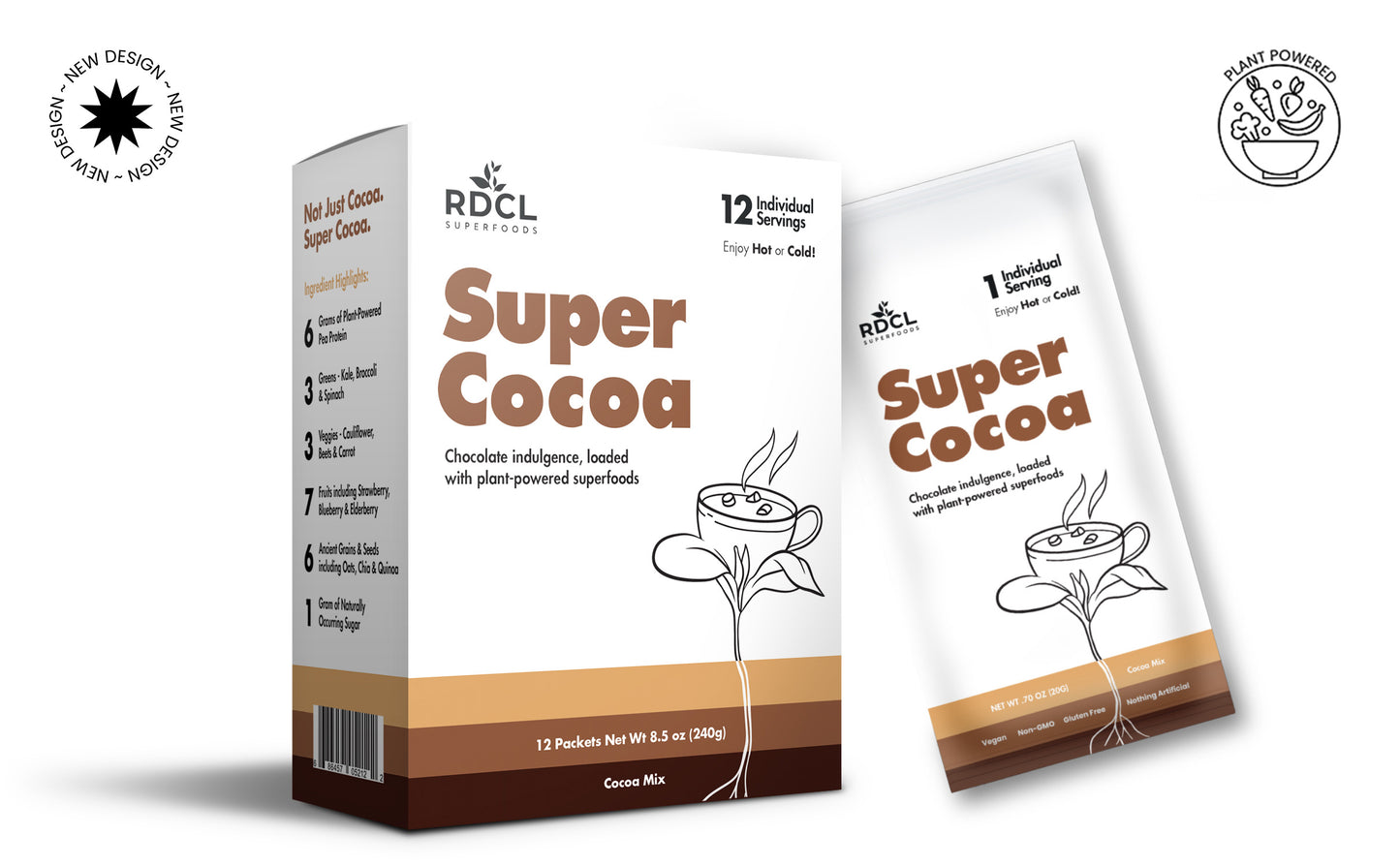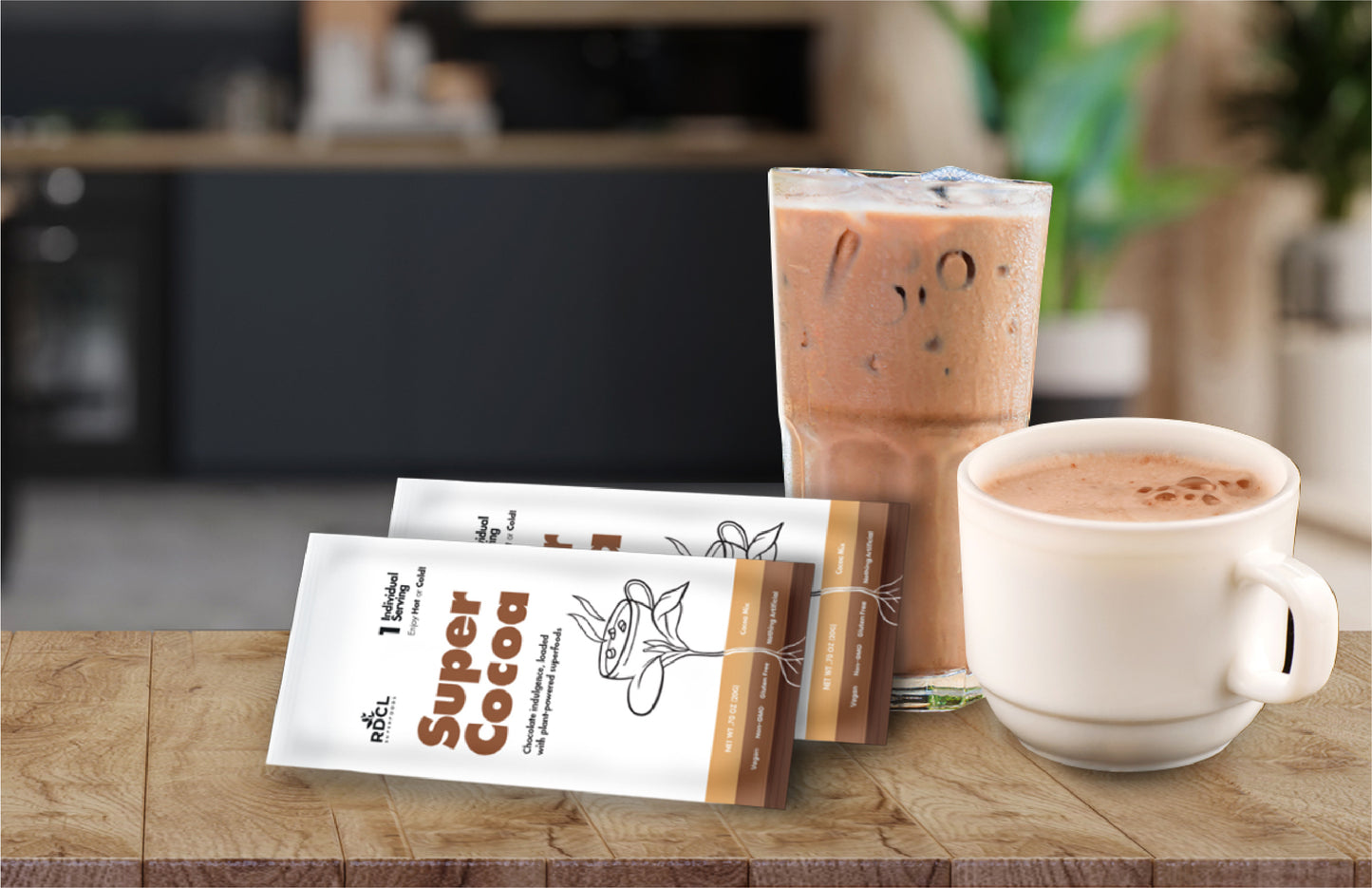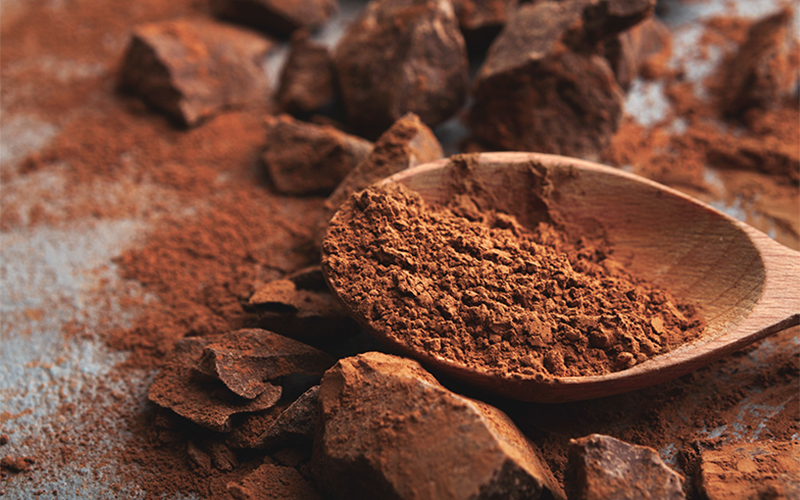 Super Cocoa's guilt-free chocolate fix
Although I'm not a big hot chocolate drinker, I find it amazing that Super Cocoa packs such healthy ingredients into its rich drink. Whether it's for kids or for big kids  it redefines a category and enables us all to indulge our need for a chocolate fix without any guilt.
My favorite healthy treat!
Super Cocoa makes for the perfect snack or healthy dessert. I always feel great drinking it (thank you hidden fruits and veggies!) and it satisfies my sweet tooth. I usually drink it cold but I also LOVE it hot!
Plant based hot cocoa
It is very good. Too rich with plant based milk, but great with hot water.
Check out our product lineup...
Meet the Good-For-You Superfood Cocoa.
We cut out the junk and replaced it with nutritious, plant-based ingredients - but without sacrificing the delectable taste. No hydrogenated oils, no refined sugars, no corn syrup, no dairy, no carrageenan, nothing artificial, and none of the many other detrimental ingredients that typically haunt your beloved cocoa.
Behold Some of Our Radical Ingredients:
2 TYPES OF REAL COCOA

6 GRAMS OF ORGANIC PEA PROTEIN

6 ORGANIC ANCIENT GRAINS & SEEDS

3 ORGANIC VEGGIES

3 ORGANIC GREENS

7 ORGANIC FRUITS
Vegan

Super Cocoa is 100% vegan and cruelty free. We avoid the use of any animal-based ingredients - always. Our products are vegan for your health, the planet, and all the animals we share it with.

Whole Food Ingredients

Get the whole food ingredients your body needs and deserves while satisfying your desire for indulgent cocoa. We use real ingredients that grow out of the ground and are packed with beneficial nutrients.

Zero Sugar Added

Unlike the 25+ grams of sugar per serving that you'll find in many other cocoas, we don't add ANY sugar. All you'll find is one measly gram of naturally occurring sugar, which comes from our fruits and oats.

Non-GMO

"Non-GMO" means non-genetically modified organisms. And to put it simply, our ingredients are not genetically modified. It's one of the many factors that makes Super Cocoa, well, super.
Make It Hot

Simply mix with hot water or your favorite unsweetened, plant-based milk and enjoy our radical new take on a hot chocolate!

Make It Cold

Shake Super Cocoa in a bottle or jar with unsweetened plant-based milk (or water) and a bit of ice for a refreshing superfood chocolate drink! You can also blend it with a banana or any other of your favorite "smoothie" ingredients.

Kid's Love it Too

Looking for a way to get your kids to eat their veggies? Look no further. Super Cocoa is packed with greens and superfoods. The best part? It tastes chocolatey and delectable. And it can be our little secret :)
Purposeful Ingredients
We thoughtfully select each and every ingredient so that they meet our standard.
All of the ingredients in Super Cocoa are listed below.Click on an ingredient to learn more.
Organic Pea Protein

Each serving of Super Cocoa contains 6 grams of high-quality, organic pea protein. It contains all 9 essential amino acids, is rich in iron, and can help build muscle mass. Plus, it makes our Super Cocoa more satiating if you have it as a "mini" meal or as a bridge to keep you going between main meals. Source
Organic Greens

Our Organic Greens include 3 super greens: organic kale, organic spinach, and organic broccoli. Dark green leafy veggies (like kale and spinach) are rich in vitamins A, C, E and K, while broccoli is also rich in many of the B-vitamins. These greens contain high levels of fiber, iron, magnesium, potassium and calcium, as well as lots of carotenoids-antioxidants that protect cells and play protective roles in the early stages of cancer. Source
Organic Vegetables

Our Organic Vegetables include 3 super veggies: organic cauliflower, organic carrot, and organic beet. Cauliflower is a good source of fiber and contains a group of substances known as glucosinolates. As you digest it, glucosinolates are broken down into compounds that help protect cells from damage and have anti-inflammatory, antiviral, and antibacterial effects. Carrots are a great source of beta carotene, fiber, vitamin K1, potassium, and antioxidants. And beets are rich in vitamins, minerals, and plant compounds, can help lower blood pressure, and contain pigments called betalains, which may potentially serve as a natural anti-inflammatory. Source 1 | Source 2 | Source 3
Organic Ancient Grains & Seeds

Our Organic Ancient Grains & Seeds are gluten free and includes organic oats, organic amaranth, organic millet, organic quinoa, organic buckwheat, and organic chia. Diets that are higher in ancient grains have been linked to various health benefits, such as improved blood sugar, reduced inflammation, and lowered rates of heart disease and cancer risk. Seeds like Chia are high in fiber, protein, omega-3 fatty acids and a variety of micronutrients. Source 1 | Source 2
Organic Fruits

Our Organic Fruits include 7 fruits and berries: organic banana, organic strawberry, organic raspberry, organic blueberry, organic tart cherry, organic elderberry, and organic cranberry. Fruits are a great source of fiber, which can help reduce the incidence of cardiovascular disease and obesity. Fruits are also a great source of vitamins, minerals, and phytonutrients that function as antioxidants and anti-inflammatory compounds. Source
Coconut Creamer

Our coconut creamer is comprised of coconut oil and gum acacia. This helps make our Super Cocoa rich and creamy, and it serves as our source of healthy fat. Coconut oil boasts a unique combination of fatty acids that may have positive effects on your health, such as promoting fat loss, supporting heart health, and boosting brain function. It also contains lauric acid, which can kill harmful pathogens, such as bacteria, viruses, and fungi. Gum Acacia, which is also known as acacia fiber, is made from the sap of the Acacia senegal tree. It's a highly soluble fiber that's packed with health-supporting benefits. Source 1 | Source 2
Organic Cacao Powder & Alkalized Cocoa Powder

Our Super Cocoa features 2 types of rich, genuine cacao. Cocoa powder is made by fermenting, lightly toasting, and crushing cocoa beans, and ultimately removing the fat or cocoa butter. It's rich in polyphenols, which have been linked to various health benefits, including reduced inflammation, better blood flow, lower blood pressure, and improved cholesterol and blood sugar levels. Cocoa is even known to support brain health, blood sugar and weight control, and even healthy teeth and skin. Source
Himalaya Pink Salt

Himalayan pink salt is naturally pink in color and is mined in Pakistan near the Himalayas. Like table salt, it consists mostly of sodium chloride, but it also contains up to 84 other minerals and trace elements. Source
Organic Guar Gum

Guar gum is made from legumes called guar beans, and it's often used as a thickener and stabilizer. We use it in tiny amounts (less than 1%) for improving the texture of Super Cocoa. Guar gum can also be beneficial in the control of various health problems, such as diabetes, heart disease, and colon cancer. Source
Natural Flavors

We add a tiny touch of flavors to further enhance our product. No synthetic pesticides or GMO ingredients. No solvents or preservatives. Just the delicious flavors and aromas that are found naturally in plants.
Xanthum Gum

Xanthan gum is a popular food ingredient, as it's an effective thickener and stabilizer. It's created when sugar is fermented by a type of bacteria calledXanthomonas campestris. When a tiny amount (less than 1%) of xanthan gum powder is added to a product like Super Cocoa, it helps make it smoother and creamier. Source
Organic Stevia Leaf Extract (Rebaudioside A)

Stevia is a green leafy herbal plant that has been used for centuries because of its incredibly sweet leaves. In Fact, stevia is about 150 to 300 times sweeter than table sugar, so it can effectively be used in minuscule amounts to round out flavor and sweetness. Plus, it has no carbohydrates, calories, or artificial ingredients, and it doesn't negatively affect blood sugar levels. Stevia is also being researched for a variety of purported health benefits. Source 1 | Source 2
Silica

Silica, also known as silicon dioxide, is a natural compound comprised of two common materials found on Earth: silicon (Si) and oxygen (O2). It's found naturally in water, plants, animals, the Earth's crust, and even in the tissues of the human body. Though it's not entirely clear what role it plays, it is believed to be an essential nutrient our bodies need. We use tiny amounts of silica to help maintain the integrity and quality of our products. Source
Citric Acid

Citric acid is an environmentally-friendly ingredient that's naturally found in various fruit, such as cranberries, lemons, limes, pineapples, raspberries, strawberries and tomatoes. We use a minuscule amount of it here to further enhance the flavor of our Super Cocoa. Source